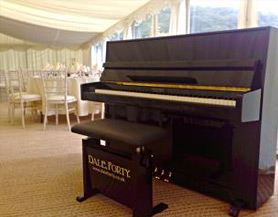 Short Term Hire
Whether for a wedding, corporate event, concert or music festival I can supply a quality instrument at an affordable price. Upright, digital and electric pianos are supplied personally, grands are supplied in conjunction with other specialists. If I can't supply the ideal piano personally, I will arrange for the appropriate company to hire to you direct. Unlike some competitors, I do not hire from third parties and add a mark-up, so all prices quoted will be the most competitive.
Services include:
A competitive, no obligation quotation
Hire of a well maintained upright or grand piano
An adjustable concert stool
Pre-hire preparation and tuning, plus an on-site 'top up' tuning if requested
Where required an 'A' frame or easy move castors can be supplied
Delivery, setting up and collection
Pianos available include:
Yamaha, Boston and Steinway Grands (as available)
Yamaha U3 Professional Series Upright
Dale, Forty 111 Tivoli in Black Bright finish
Yamaha Clavinova Digital
Yamaha P-series Stage-piano Digital
Yamaha CP-80 Classic electroacoustic grand
WurliTzer EP200 Classic electric piano
Please contact for terms, availability and prices.